List of Famous Designers of Buildings Online
Sponsored Links



List of Famous Home Designers
This list of building designers is a growing list that will expand over time to include architects from many different countries and architecture periods. The list is categorized alphabetically.

Le Corbusier 1887 - 1965
Charles-Édouard Jeanneret was a Swiss French architect and furniture designer. He pioneered Modern architecture and design. Among the buildings he designed were the National Museum of Western Art in Japan, Villa Savoye, Museum at Ahmedabad in India, and the Heidi Weber Museum in Switzerland.

Charles and Ray Eames
Famous American designers were a husband and wife team of Charles Ormond Eames, Jr and Bernice Alexandra Eames with rather stange nickname for a woman of Ray. The architects and furniture designers created some of the most famous modern furniture in the world. Classic in furniture design included the Eames Lounge Chair and Ottoman, Eames Lounge Chair Wood (LCW), Low Chair Wood, Eames Executive Chair, Eames Aluminum Ottoman, La Chaise, Eames tandem sling seating, Eames Eiffel Fiberglass Armchair, and more.

Antoni Gaudí 1852 - 1926
Famous Spanish architect known worldwide for his organic and playful buildings. His designs include the unfinished Sagrada Família cathedral, Casa Milà, Casa Batlló, and Park Güell.

Frank Gehry born 1929
Canadian born American architect inspired by organic and natural forms. Among his famous buildings are the New York City residential tower 8 Spruce Street, the Bilbao Guggenheim Museum in Spain, the Walt Disney Concert Hall in Los Angeles, and the Experience Music Project in Seattle.

Zaha Hadid born 1950
Famous Iraqi born British architect Dame Zaha Mohammad Hadid has designed a number of futuristic buildings throughout the world. She was the first woman architect to win the presitious Pritzker Architecture Prize. She has also designed a number of interiors.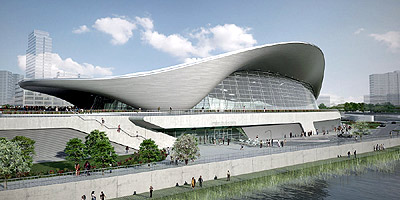 London Aquatics Centre by architect Zaha Hadid

Arne Jacobsen 1902 - 1972
Influential Danish furniture designer and architect that pioneered the Danish Modern style of design. Among his famous furniture pieces were the Swan chairs, Ant chair, and the Egg chairs.

Harry Seidler 1923 - 2006
Famous Australian architect born in Austria. Seidler was famous for buildings like the Rose Seidler House, Blues Point Tower in Sydney, Australia Square Tower in Sydney, Ian Thorpe Aquatic Centre and Cove Apartments.

Frank Lloyd Wright 1867 - 1959
One of the most influential and famous architects of the 20th century the American architect Frank Lloyd Wright designed many famous buildings. Among the more notable building he designed were the Fallingwater house, Robie House, Taliesin studio, and the famous Solomon R. Guggenheim Museum in New York City, USA.

Related Directory Categories - Home Shops - Home Wholesale Companies

Submit Building Designers List Website


List your Famous Architects or information on one of our many lists on the Nalee shops directory online.
http://www.nalee.com/submit.htm - List of Home and Garden Lists




Nalee Shopping Directory